News
July 2021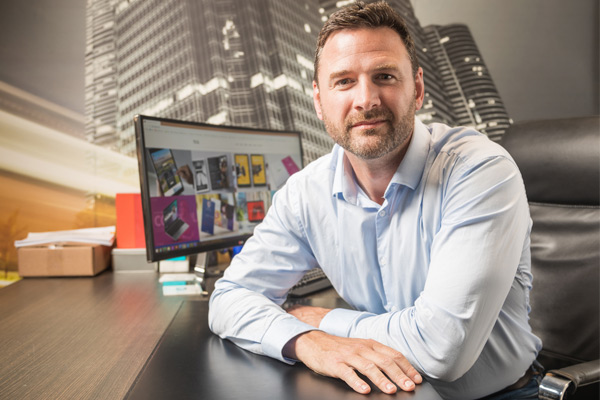 BCQ to Remove 2 x B2 for 1 x A1 RMGT Press
Buckingham-based BCQ Group has become the latest UK printer to announce the purchase of a new RMGT press – an RMGT 925 five-colour offset litho machine. The A1-format machine will replace two existing B2-format Heidelberg presses, and is expected to produce even more print, as it will eventually run on 24/5 expanded shifts. The press is being purchased from MPL, the Surrey-based UK distributor for RMGT presses.
The new press will replace a Heidelberg 75 four-colour machine, which has already been sold, and a Heidelberg 75 five-colour unit when the RMGT arrives, which is scheduled to be later this year. The company's existing Heidelberg XL75 LE-UV will remain.
Commenting on the purchase of the new press, Chris Knowles, Managing Director of BCQ, said: "As MD of a printing company I am always reviewing the latest news on equipment. A visit to Japan was arranged to view Horizon post-press equipment and to take in a visit to the RMGT manufacturing plant."
"I was immediately impressed by the company, its staff, and its philosophy – we don't want to manufacture spare parts, we want to manufacture printing machines that don't break down," was the clear message coming through."
The reputation for reliability of RMGT presses is constantly growing as the user base across the globe continues to swiftly expand, as leading litho printers of all sizes invest is new equipment.
"The plant itself was extremely impressive, and the format of the RMGT 920 Series really started me thinking very positively – an A1 press in the body, and therefore floorspace, of a B2 machine. Back in the UK I was able to speak to a number of RMGT users, and their feedback fully supported the claims of the UK distributor regarding print quality, reliability and the inherent savings afforded by the format, as well as the environmental bonus from power savings when compared to our existing presses."
"Previously BCQ had only used Heidelberg presses since the company's formation in 1976, but having studied all of the critical areas surrounding the purchase of a new press, the RMGT 920 Series won in a great many of the categories, and ticked some of the most critical boxes, including the overall cost of ownership. And, let's face it, these days, all presses are now capable of printing fantastically well, and the market price for litho sheets continues to fall, so this has become an imperative."
Commenting on the change in sheet size, Chris added: "The move to an A1-format will allow us to handle a number of jobs that we have been sending to external suppliers – another box that we hadn't initially considered that could be ticked!"
The new format and anticipated reliability will allow BCQ to expand its shifts, with the aim of running 24/5 in the not-to-distant future, leaving the weekends for it to expand into at particularly busy times, or to conduct routine maintenance on machines.
Chris Knowles has enjoyed a lifetime in print, as his father founded Buckingham Colour Press back in 1976 – one half of the present-day BCQ business which was created when it was merged with Colour Quest, then situated in Hemel Hempstead, in 2007. Seeking a total grounding in the industry, Chris studied at the London College of Printing before embarking on a career in print media management, including roles at Artisan Press, Tesco corporate purchasing, and Communisis, where he was involved with many major accounts. He returned to the fold in 2007 shortly after the merger.
Work produced at the company's Buckingham site, which employs over 100 personnel, includes print for the leading supermarkets, banking, automotive and education sectors, plus a diverse range of other loyal "blue chip" customers.
This balance of customers has helped BCQ through the recent Covid-19 lockdowns: "As with virtually all businesses, the last year has been a major challenge. However, it has prompted us to look closely at our company, focus on what we do well for our customers, and areas that we might be able to improve. We've actually been able to add some new clients recently, while many of our existing customers have continued with their print requirements, albeit with reduced quantities."
"Overall, we are in good shape as business begins to return, though we have to salute the government for the way it has helped companies through lockdown."
A two-year full parts and labour guarantee is included in the circa £1 million investment.
Commenting on behalf of the press supplier MPL, Mark Stribley, joint managing-director, said: "We are, of course, delighted to be able to welcome BCQ, yet another of the UK's leading print businesses, to the world of RMGT. The approach of taking out two existing B2 presses and installing one RMGT 920 Series machine will help, we firmly believe, to create an even more profitable print operation, and be even more productive for BCQ. "
"Being able to see the RMGT plant in operation certainly gave Chris a very positive impression of the company. He was able to see first-hand the exacting standards that are in place throughout the manufacturing process, and the critical focus that RMGT has on producing printing presses that will simply keep on producing."
---
About BCQ
The company, founded in 1976, provides a broad range of productive and creative services. These include, litho and digital print, wide format POS, digital marketing, video production through to warehousing, logistics and fulfilment. As the company says on its detailed web pages, "We want to make a difference to everything and everyone we come into contact with. Be that our customers and their businesses, or to our team, their families and the environment. And we want to make to a difference to you. See what we are doing to make a difference."
Visit https://www.bcqgroup.com to get the full picture.
---
About MPL
In 2010 MPL took on the management of both sales and service for Mitsubishi Litho Presses in the UK and Ireland. This relationship has since grown to encompass responsibility for technical service across the whole of Europe for Mitsubishi presses, and the UK for the now re-named RMGT business. MPL also manage spare parts storage and distribution for all RMGT Mitsubishi branded machines across Europe.
This representation joins established products such as GUK folding and inserting equipment, primarily focused towards the pharmaceutical packaging sector.
MPL offers manufacturers considerable marketing and business expertise across both the printing and packaging sectors and provides high-quality national coverage for sales, support and technical service.