News
December 2019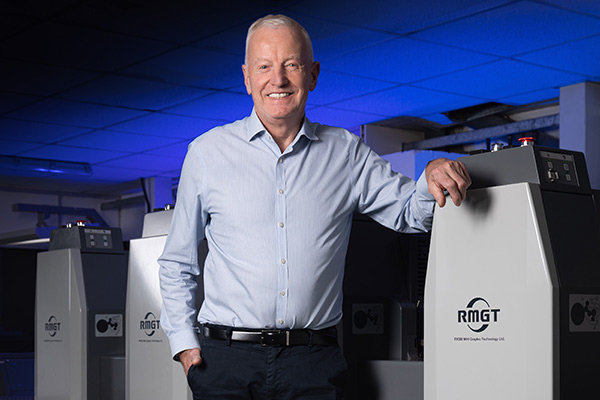 "DigitalXtra" RMGT 524 LED-UV for Healey's, Ipswich
Healey's Print Group, Ipswich, has announced details of the purchase and installation of an RMGT 524 LED-UV B3 format litho press. The machine, sold under the 'DigitalXtra' banner by UK RMGT distributor MPL, was purchased to boost the busy print company's litho capacity.
Philip Dodd, Managing Director of Healey's, said: "We have been seeing increasingly buoyant volumes of litho work coming in. Whilst our digital workload is still very strong, we were beginning to experience some difficulties in keeping up with litho demand during certain busy periods with our Heidelberg 75 XL B2 press."
"Historically we came from a B3 litho background, so when we spoke to the team at RMGT we could appreciate the potential of their B3 product, which combines the high productivity of litho with the instant drying of LED-UV – a technology that we had already been assessing."
The B3 format RMGT 524 LED-UV sheet-fed litho press offers printing speeds of up to 11,000 sheets per hour. This sophisticated 52cm machine that is seen by many as the market leader in small offset. Developments such as LED-UV and low-cost CtP have made litho even more attractive against digital alternatives in this sector.
"The ‹DigitalXtra› positioning of this technology by MPL makes great sense – it fills that gap between true digital work and the long run printing that requires a B2 or B1 format litho press for cost effective production. The new press will ensure that we keep up to date with our litho work, but also provide us with back-up for the B2 press on the rare occasion when it might be needed."
Healey's removed a digital product to make way for the B3 litho press.
"The RMGT 524 LED-UV gives us that extra litho capacity that we need right now," added Andy Clarke, Production Manager at Healey's. "And a back-up for our Heidelberg. Although it's a smaller device, there would be no problem in producing B2 work on a B3 machine just as an emergency."
"We started to look at just how much of the work produced on that particular digital machine could be produced on a B3 litho press, and what the cost effectiveness of each machine would be. There was very little personalised work being produced, and there were quite a number of jobs that exceeded 500 copies."
"Our Ricoh machines are handing a good quantity of manuals and similar work, and would be quite capable of producing the personalized work that we did have. The rest of it – 500 runs and above was really litho work, especially when you add the RMGT feature of instant drying with LED-UV."
"The LED-UV gives us dry to the touch production on a variety of stocks, including uncoated. It's a bit of a game changer."
Commenting on the installation for RMGT, Joint Managing Director Mark Stribley said: "We are delighted to be working with leading commercial printer Healey's. Having reviewed their workload, the company could see that gap in production that exists in many print businesses – work that is too long a run to be produced economically on digital but does not quite justify moving to a B2 or larger offset press. Our ‹DigitalXtra› focus hits that spot. Fast, economical printing on a wide range of stocks with instant drying of the sheets."
Healey's is a print business that continues to grow – moving from a £3.5 million turnover business to £4.2 million last year, with its eyes on a £4.6 million turnover this financial year. The company operate a 24-hours / six-day shift pattern, with three Ricoh digital presses (2 x 9200 and 1 x 7200) and a Heidelberg 75 XL litho press, and now the RMGT 524 LED-UV.