Productivity Awards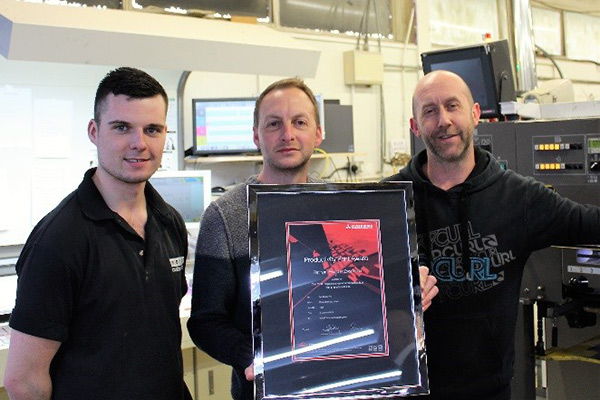 Epic Creative Print: Productivity Print Award
Epic Creative Print, Dorchester, has become the latest print business to receive a Productivity Print Award from M Partners, the UK distributor for RMGT B1 format presses and service provider for existing Mitsubishi sheet-fed printing machinery. Epic qualified for the Platinum Award of Excellence having worked for over 2,000 days since the loss of a production hour due to machine failure.
Epic has enjoyed consistent, reliable printed output from the B2-format D1000, configured as a six-colour press with coater and extended delivery, for eleven years now. "We had been using a Mitsubishi machine prior to our decision to invest in a new press, some twelve years ago," said Jason Johnson, Technical Controller at Epic Creative Print. "We wanted to thoroughly examine the market before making our decision. A range of challenging test jobs were printed at manroland, Heidelberg, Komori and Mitsubishi. In our opinion the samples from the Mitsubishi were hands-down the finest that were produced. We already had experience of the reliability of Mitsubishi presses, so our investment decision was made."
The company certainly works its printing equipment incredibly hard, continually posing print challenges to the machinery. "We take on work that other printers turn away. Technically challenging work is a joy to us – we take pleasure in creating solutions and providing customers with exceptional print," said Jason.
The Mitsubishi is the only B2-format press in use at the company. It sits alongside a two-colour Heidelberg GTO 52 to complete the litho side of the company's printing equipment. Digital output is focused on an HP Indigo 5700.
Commenting on the award on behalf of M Partners, Steve Ennew, Technical Sales Manager for the company, said: "It is a delight to see Epic Creative Print in action. The work they produce is exceptional. We are also delighted that they only require the services of one highly reliable offset press for their B2 work. Running demanding work for over 2,000 days without losing a single hour of production time due to a machine breakdown is something we are more than pleased to shout about, but more importantly it means that here is a print business that can focus solely on producing quality work, not worrying about losing hours of production due to equipment failure, and the associated costs."
After thorough evaluation the team at Epic recently decided to upgrade the Mitsubishi machine with LED-UV drying equipment. "We have been very impressed by the benefits of LED-UV. Drying times are non-existent. The sheet is dry as soon as it hits the delivery. We are also seeing savings in power consumption, and whilst the inks are currently more expensive, we are using less as there is no absorption of ink into the stock."