News
Jan 2022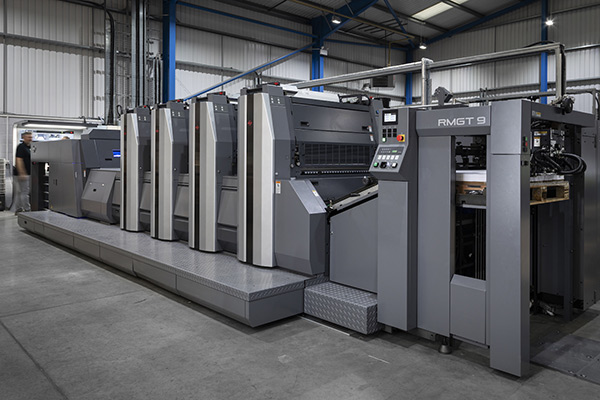 Harlow Printing Adds RMGT 920 with LED-UV
South Shields-based Harlow Printing has become the latest leading UK print business to install an RMGT 920 offset litho press equipped with the market leading LED-UV curing system. The four-colour press joins a line-up that includes two mini webs, two B2-format litho presses, and several SRA3 machines, along with digital equipment from Xerox and Ricoh. The new press has been installed by UK and Ireland RMGT distributor MPL – a subsidiary company of M Partners.
The South Shields printer produces a significant amount of work for a number of NHS Trusts and last year won a place on the Crown Commercial Services framework. It has a particular specialism in work for maternity and early years development, alongside general commercial work. The expanded format offered by the new press will allow the company to handle the wide variety of the work covered by these customers.
Managing Director Richard Walker explains the decision-making process with regard to the latest addition: "I'd been tracking the development of the RMGT SRA1-format press for some years. We could certainly see a lot of benefits in moving up to a larger sheet size than B2, but the leap to B1-format could be too big for us. An SRA1-format press, however, with a B2-sized footprint, certainly made a lot of sense for us. The potential of eight-up printing, without the B1-format overheads."
"I took the chance back in 2020 to visit Japan to see the RMGT factory in operation. I was especially impressed by the focus the company has to build printing machines that just print – it was not there to produce spare parts! That's a pretty impressive mantra."
"The visiting party included a number of UK printers who were already RMGT 920 press users. The comments and information that they were able to offer me during the visit suggested it could well be a good investment for Harlow. "
"We were especially taken with the potential for the LED-UV curing element of the press and its capabilities. Dry-to-the-touch sheets coming off the press would mean that they were available for immediate back-up, or swift delivery to the finishing department. All of that would mean shorter turnaround times for the customer and a more efficient production system for us – some of the advantages that we were already able to offer with short-run digital work."
"Whilst we have only been printing for a few weeks since the installation, and our operators are still getting used to the differences on the press compared to the previous machine, our team are certainly beginning to see the benefits of many of the machines outstanding capabilities. The automated plate loading, the swift make-ready, getting into saleable sheets and accurate colour quickly, and, of course, the LED-UV curing, are already making a difference to us."
"One cost-saving immediately apparent is the low number of sheets needed to get to good copy. The fast and accurate make-ready on the RMGT press means very few waste sheets – and that mounts up over the course of a year. The automatic plate loading helps to reduce job change-over times still further."
The machine includes RMGT's Smart FPC simultaneous plate change with simultaneous blanket wash, ink pre-setting and pre-damping settings running automatically. It also has inline density control and a dual LED-UV drying system in an extended delivery.
The benefits of the LED-UV drying system were highlighted by one particular job that the company was asked to produce just before Christmas: "It had heavy solids throughout. It could've been very hard to produce that job in time with the older litho equipment. The solids would never have been dry enough for backing up – even if we'd left it until the following day. That type of work could also have presented problems in finishing too, with marking, set-off and scuffing. The LED-UV certainly showed its capabilities in that particular job. It was produced without any problem at all and delivered to the customer on time."
The long-life expectancy and reliability of the RMGT press and it's components are things that are hard to prove initially, but MPL joint-managing director Mark Stribley says that as Richard has enjoyed conversations with a number of RMGT users, his confidence can be high in that regard: "RMGT users worldwide speak passionately about the reliability of our presses. They just print!"
"Being able to see the RMGT plant in operation certainly gave Richard a very positive impression of the company. He was able to see first-hand the exacting standards that are in place throughout the manufacturing process, and the critical focus that RMGT has on producing printing presses that will simply keep on producing."
---
About Harlow Printing
Harlow Printing offers a wide range of print services. It covers all aspects of a products journey, through design, print, finishing, direct mail and distribution.
Alongside these core services, business growth has influenced Harlow to diversify into areas such as print management, fulfilment, healthcare products, software and web design. The central focus is customer service and the aim is to provide high quality products and solutions.
---
About MPL
In 2010 MPL took on the management of both sales and service for Mitsubishi Litho Presses in the UK and Ireland. This relationship has since grown to encompass responsibility for technical service across the whole of Europe for Mitsubishi presses, and the UK for the now re-named RMGT business. MPL also manage spare parts storage and distribution for all RMGT Mitsubishi branded machines across Europe.
This representation joins established products such as GUK folding and inserting equipment, primarily focused towards the pharmaceutical packaging sector.
MPL offers manufacturers considerable marketing and business expertise across both the printing and packaging sectors and provides high-quality national coverage for sales, support and technical service.