News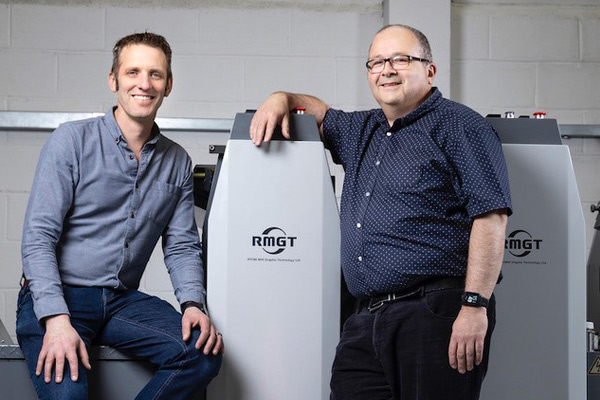 It's Litho AND Digital for Corsham Print
Almost three years on from the installation of its RMGT B3-format litho press equipped with LED-UV curing technology, Chris Perry, MD of the near 20-year-old Corsham Print in Wiltshire is more confident than ever that he and his team steered the company in the right direction.
Prior to 2016 Corsham Print had installed digital equipment in the shape of two Ricoh machines in order to take the strain off the existing Ryobi litho press. At the time of the RMGT purchase Chris had admitted that things had almost turned full circle and the new litho kit would help reduce the workload now transferred to the digital machines.
Chris's advice now? "Don't stick to one technology – it's digital AND litho for us. Both have an important role to play in our business going forward, especially when we are building relationships with customers. It makes us more flexible. We can produce runs up to 50,000 if needed – we don't want to do that every day of course: we don't make our money on that sort of work.
We specialise in short run print production. Our success is down to keeping the gap between jobs as short as possible. The fast make-ready on the RMGT machine is critical. It makes our litho production cost effective against digital on runs as short as 300 copies.
Being able to print on a wider range of stocks also does make a difference. Uncoated stocks especially provide a key point of difference for litho – digital almost always leaves a sheen on that type of substrate. The LED-UV curing capability means that sheets are dry to the touch as soon as they exit the press, colour is true and accurate, and ink volumes are kept to the minimum as opposed to ink drying partly through absorption into the stock."
Comparing Corsham's customer offering to web-based players, Chris Perry said: "We like to think that the work we produce you simply couldn't buy online. Different stocks, different sizes, different finishes. In our opinion print is not a ‹one size fits all› type of business."
When comparing print to an on-screen message, Chris champions ink on paper: "Our new marketing slogan is "In a digital world print stands out". We firmly believe that people are returning to print because their customers take notice of a piece of print rather an a digital screen. It's tangible, you can hold it, you can share it easily, it carries significantly more gravitas, and print is very portable in that you can read it anywhere without ever having to plug it in!"
Looking back to the purchase of the press Chris added: "We knew that we didn't really need to look at any other suppliers products. RMGT, through the Ryobi business, has been at the forefront of the LED-UV technology, and Ryobi presses had served us well. The purchase put us at the cutting edge of print technology."
The RMGT 524GX is a sophisticated 52cm machine that is seen by many as the market leader in small offset. Developments such as LED-UV and low-cost CtP have made litho even more attractive against digital alternatives in this sector. The flagship RMGT 524GX comes complete with automatic plate loading on the press and a direct link for CIP3 ink data to be transferred from CtP to press. This helps to reduce make-ready time by more than half.
Corsham Print is run by a team of eleven. The company handles a wide range of commercial print, as well as graphic design, photography, branding, and web site creation work. It has shown consistent growth over recent years.