News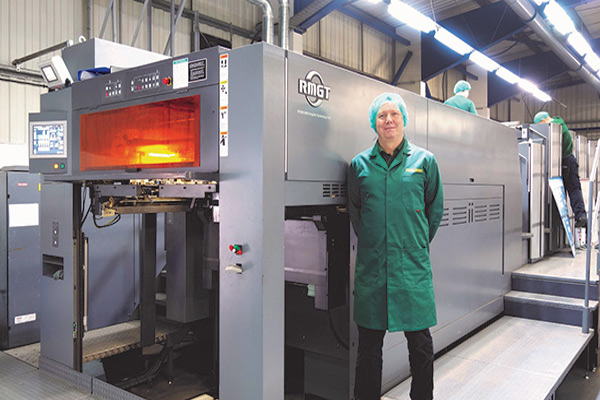 New RMGT Press for Glossop Cartons
Following the company's move to larger Stockport-based premises, leading UK printing packaging producer Glossop Cartons has announced details of its latest litho press investment: a six-colour plus coater RMGT B1 machine, purchased from exclusive UK RMGT distributor for B1-format presses M P L Ltd a division of M Partners Ltd.
The purchase represents Glossop's fourth RMGT B1 press buy. Jacky Sidebottom-Every, Director of Glossop Cartons, commenting on the choice of machine, said: "These presses are simply the most reliable printing machines on the market. Our previous experience tells us that we really don't need to look elsewhere. One of our RMGT presses was recently recognised as having produced work for two years solid without a service visit – that's the sort of productivity we are buying into when we purchase these presses, and its the sort of "never-let-you-down" experience that our customers expect from us.
"The reliability and build quality of RMGT presses not only provides us with the confidence that we need as a packaging producer, it also means that our cost of ownership of the press is both a known figure and is minimal compared to many other brands of equipment on the market – we know because we talk to other packaging producers, and are amazed by the amount they claim to spend to maintain their equipment!"
The RMGT 10 B1-format press is a 1,050mm machine in a six-colour configuration, capable of handling stocks from 0.04mm through to 1.00mm. The machine will be equipped with a chamber coater and will incorporate fully-automatic simultaneous plate change, which offers a 75 second complete plate change on the press. The installation will also include RMGT's latest wall screen monitor for viewing press status at a glance.
The new machine joins a Mitsubishi V3000, incorporating inter-deck UV drying and IR, as well as Air Knife, printing B1 format sheets. The presses are capable of printing on all types of substrates, including board, foils, and plastics, all with exceptional results.
Commenting on this latest purchase, Mark Stribley, Joint MD of M Partners Ltd, the RMGT B1-format press distributor for the UK based in Surrey, said: "We are of course delighted that Jacky and the Glossop team have added further RMGT fire-power to their press room. We believe that the latest B1 press design from RMGT is the suppliers most powerful press yet for the packaging market, but still backed by that now expected reliability and low cost of ownership."
The press will be installed at the company's new Stockport factory. The new site was gained through the acquisition of Contact Print & Packaging at the end of 2015. The move to this facility has allowed Glossop Cartons to enjoy improved transport links as well as benefit from much larger premises with a superior layout. This in turn will allow the business to fully exploit both its conventional and digital packaging capabilities to UK and global brands, and further enhance its reputation for industry excellence.
About Glossop Cartons
As one of the UK's leading manufacturers of carton board packaging products, Glossop Cartons innovation, quality, service and investment in the latest technology has seen it grow from small beginnings back in 1982 to a thriving industry leader holding a strong customer base of leading household names.
The business recognises that service and flexibility are the essential pre-requisites in meeting the requirements of major multiple retailers, and as such, it has continuously invested in systems and processes that benefit our customer needs, such as lead times and ability to produce packaging that stands out from the crowd. Glossop Cartons differentiates itself in its industry by being very customer-focused, trying to understand the issues its customers face, and coming up with effective packaging solutions to resolve these issues.