Productivity Awards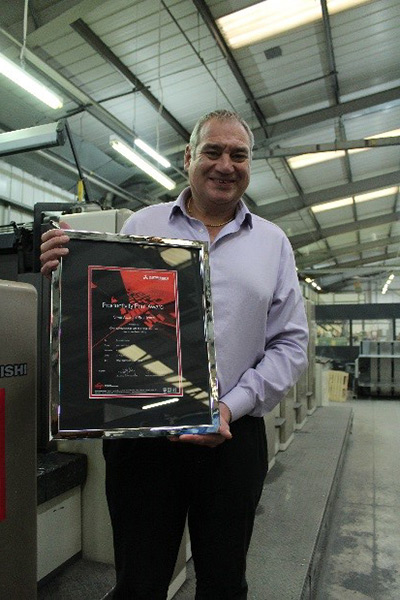 Ormerods, Rochdale, Presented with Production Award
Leading offset litho label printer, Ormerods Ltd of Rochdale, has become the latest recipient of silver "Productivity Print" award from MPL Ltd, UK distributor for RMGT B1 presses, service provider for existing Mitsubishi machines, and a division of M Partners. The awards have been presented for a B1 press that have enjoyed over two years of printing without losing a day of production.
"I was very much a Heidelberg fan before I joined Ormerods some 12 years ago," said Richard Parker, now Production Director at the company. "The Mitsubishi machines, however, have convinced me that other equipment can be highly productive and very reliable. They will certainly be at the top of my shopping list when we come to invest in offset machinery again."
"Press reliability is becoming ever more important in today's printing business. We need to produce to ever tighter deadlines and, in labels, delivery times are critical – we don't want to stop a bottling line, for example, simply because our labels haven't arrived on time."
The B2-format six-colour plus double-coater Mitsubishi Diamond 1000 and the B1-format six-colour plus coater Mitsubishi Diamond 3000 deliver reliable, quality printing over a double-day shift at Ormerods – though the business can switch to 24-hour production at particularly busy times.