Productivity Awards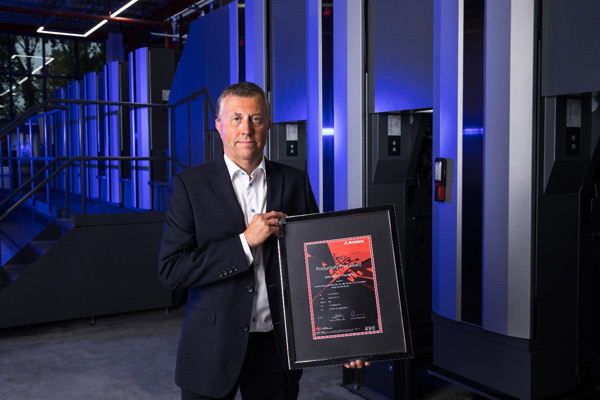 PCP receive productivity print award from Mitsubishi
Managing Director Alex Evans receives a Gold Award of Excellence from Mitsubishi. The award which was presented by Murray Lock, Joint Managing Director of M Partners, a print industry representative for Mitsubishi / RMGT, acknowledges four years of continuous production with just one day loss of production due to machine failure.
The Mitsubishi 6-colour, which was installed in 1999, was only recently removed following a £2.7 million investment in a RMGT (Mitsubishi) 1050 Tandem Perfector press. Up until this point the Mitsubishi 6-colour had played an important role in supporting the web presses in printing front covers for a range of magazines.
Murray Lock of M Partners said:
"The award provides true evidence of press reliability – an otherwise intangible benefit, and one often claimed by other press manufacturers. Overall the industry appears to currently be accepting an average breakdown of close to one day per month. Users of Mitsubishi / RMGT presses don't share these concerns."
Alex Evans commented;
"The award highlights reliability that provides PCP with peace of mind and more importantly reassurance, giving us a competitive advantage in a tough market place.
It is also a testament to our commitment in our Total Productive Maintenance programme implemented earlier this year."