Productivity Awards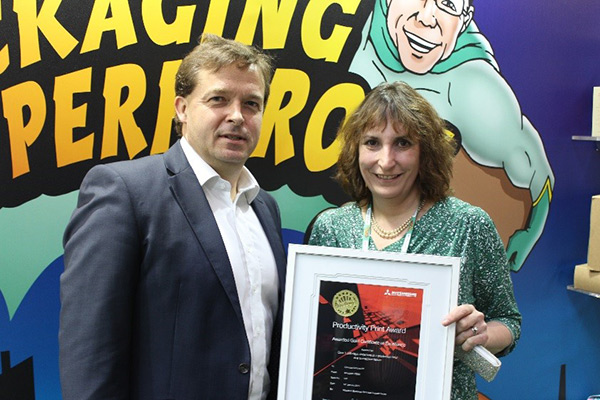 Mitsubishi "Productive Print Award" for Glossop
Derbyshire-based Glossop Cartons, one of the UK's leading manufacturers of carton board packaging solutions, has been recognised by press manufacturer Ryobi Mitsubishi for clocking up over 750 days since one of its Mitsubishi printing presses required a service visit. The feat has been acknowledged with the presentation of a Productive Print certificate from Ryobi Mitsubishi B1 press distributor M Partners Ltd. during the Packaging Innovations 2015 show at the NEC, where Glossop Cartons are exhibiting on stand A42.
Glossop Cartons Director Jackie Sidebottom comments: "These machines just print. They are the most reliable presses that we have ever owned and we are thrilled with their performance. We do schedule basic maintenance, of course, but they never let us down, and that is important to our packaging production. Over two years without the need for a service visit is a remarkable testimony to the build quality of the press and the overall design of the machine. These products are built with reliability at the top of the agenda. You could say that, just like an aircraft, reliability is a must!"
The Derbyshire company's press firepower consists of a Mitsubishi D3000LX and V3000, both incorporating inter-deck UV drying and IR, as well as Air Knives, with both printing B1 format sheets. The presses are capable of printing on all types of substrates, including board, foils, and plastics, all with exceptional results.
Commenting on the maintenance milestone, Mark Stribley, Joint MD of M Partners Ltd, the printing and large format equipment distributor based in Surrey, said: "This is a tremendous achievement, though nothing out of the ordinary for Ryobi Mitsubishi presses. These machines are just designed to keep printing. The Japanese have a very different focus to equipment suppliers in Europe, where the profits generated from the service and the sale of spares appear to be a critical part of a manufacturers income!"
Putting the service free days into context, Mr Stribley added: "In our extensive printing industry experience, we believe that it would be quite remarkable for a European manufactured press to go a couple of months without some sort of technical issue requiring attention. The 750 days at Glossop is equivalent to over two years of trouble free print!"
"The consistent performance of a press not only reduces the amount of year-on-year spend on both service visits and spares to a mere trickle, it also gives the user added confidence in the performance of the equipment. There is no time lost in production, which means what has been scheduled gets produced. Machine breakdowns can be a significant problem for print producers – especially when the demands from management are for fewer machines on the floor, as we are currently witnessing. Equipment that is purchased simply has to be productive and hassle free. Ryobi Mitsubishi presses fit the bill!"