Productivity Awards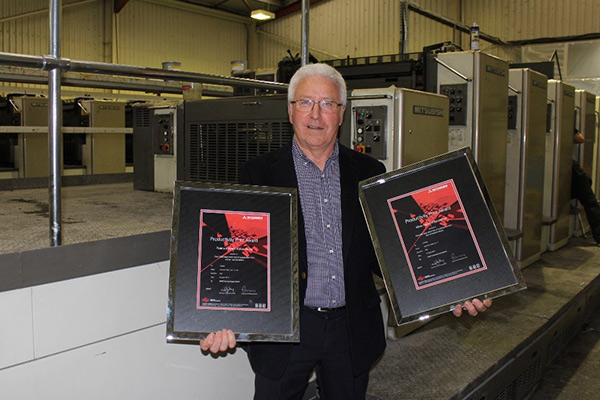 Productivity Print Awards Mitsubishi Presses at Printwize
Printwize, based in Witham, Essex, has been presented with Productivity Print awards for the performance of its two Mitsubishi B1 presses. RMGT Mitsubishi UK distributor MPL Ltd presented the awards to the print company.
The Silver and Platinum Productivity Print awards recognise the reliability of Mitsubishi presses and salute the productivity of the people who use them.
The more recent addition to the shopfloor at Printwize, a five-colour Diamond 3000LS with coater and extended delivery, has been awarded a Silver for never having lost a production hour since installation – or more than two years of 24-hour, six day a week printing.
The thirteen-year-old six-colour Mitsubishi configuration, which has been producing print for the company since 2004, has received the ultimate Platinum award from MPL for running for more than six years since an hour of print production was lost due to mechanical failure.
"The reliability and the productivity of Mitsubishi press equipment has given us a significant advantage in a highly competitive print market place," said Roger Wacey, founder and Chairman of Printwize. "The six-colour has served us very well for some thirteen years now without a significant problem. Yes, we have kept it serviced regularly, but that's about it: it simply doesn't breakdown. There are not many printers can say that about a piece of press hardware. We know that we can rely on it, 24-hours a day and for six days a week."
Founded in 1971 by Roger Wacey, Printwize has steadily grown into a £3 million turnover business employing a team of 26, producing print 24-hours-a-day, six-days-a-week. The company prints a wide variety of colour commercial work.
Roger is even more impressed with Mitsubishi reliability when hearing news from his competitors: "Speaking to other printers, they are talking about having to pay something in the order of £4,000 per month for a service contract alone. That's one big overhead – and one big overhead that RMGT Mitsubishi press owners simply don't have! Reliability with a Mitsubishi press comes as standard."
The Productivity Print awards are in recognition of the reliability and cost effectiveness of having printing equipment that truly delivers. These presses just print – and that's what a print business needs, rather than machines that all too often sit idle waiting for engineers or spare parts to get them running again! That downtime equals profit slowly draining out of a business.