News
May 2021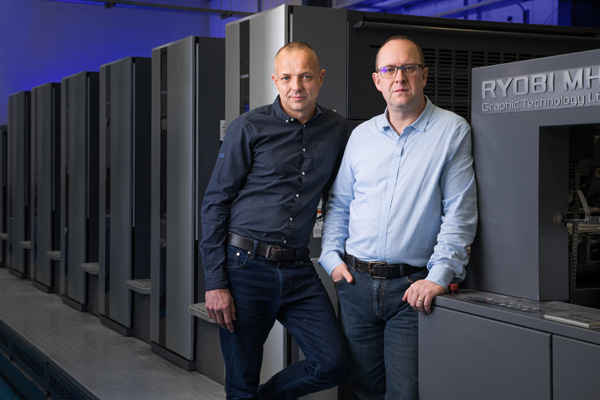 Pyramid Press Purchases New RMGT B1 Press, complete with Smart Assist Printing Feature
Nottingham-based Pyramid Press has announced the purchase of a new RMGT 1050 six-colour offset litho press, complete with Smart Assist Printing, RMGT's automated printing system. The press is being purchased from MPL, the Surrey-based UK distributor for RMGT presses.
The new press will replace the Heidelberg CD102 and will sit alongside the existing Mitsubishi V3000 and Heidelberg XL75 machines. Installation of the new press is expected to begin in November of this year.
[RMGT is the Japanese based press manufacturer formed by combining the printing press businesses of Ryobi and Mitsubishi]
Commenting on the selection process for the new machine, Paul McGuigan, Director of Pyramid Press, said: "Having stayed open during the whole of the lockdown year, we had the opportunity to review our business plan, and focus on where we needed to be as a print company."
"Having been more than a little delighted by the excellent overall performance of the Mitsubishi press – purchased as a used machine from MPL, two years ago – our deliberations centred on what presses, and what technology, we will need to have going forward."
"We had only used Heidelberg presses in the past, so we were a little unsure of the Mitsubishi at the beginning, but MPL had assured us that this was the right machine for us – since then we have been quickly converted. The automatic plate change is amazing, and fast make-ready gets the press up and running, and printing saleable sheets very quickly. The quality is very impressive, and the machine simply doesn't break down. It's been very impressive."
Pyramid prints highly colour-critical work for luxury brands in the motoring sector, as well as fabric and interior design work for prestige clients – the printed colour simply has to be correct on that type of work. The company also prints work for the food sector, including convenience store promotional work, point-of-sale, as well as some packaging. Pyramid also produces regular work for rail industry and educational sectors.
"We studied the mission critical areas of quality, speed, ease of use, supplier service and support, as well as total cost of ownership, along with environmental issues, and on balance the Mitsubishi / RMGT outscored the other presses in almost every category."
"As part of our commitment to ISO 14001 and the environment, we examined the power consumption of the presses in particular. We were left in no doubt that the Mitsubishi was the more economical machine to run. In addition, we currently run the V3000 alcohol free, and plan to do the same with the new press, which also reduces our environmental impact."
With the focus now squarely on RMGT as the new provider, the Heidelberg CD102 was sold towards the end of last year, and the company's decision has now been made to order the RMGT 1050 LX 6 CC LD six colour B1 press with chamber coater, long delivery, and the Smart Assist Printing package.
The new press order also includes RMGT's Smart FPC simultaneous plate change, which provides for a full on/off plate change in just 75 seconds.
Let "Smart Assist Printing" Take the Strain
Smart Assist Printing, RMGT's automated printing system, provides for pre-flight job programming, allowing multiple jobs to be queued for printing. It then delivers total inline control of colour and print quality with the PQS-D system examining every sheet, comparing it to the pass sheet, automatically making any tweaks that are required, while Auto-Register Adjustment controls sheet alignment. The system can insert a tab in the delivery to identify where any adjustment has taken place.
This all means that Pyramid will be able to take advantage of seamless make-ready and can move from job to job, with no need for sample sheets. All pre-sets, blanket washes, roller washes, and pre-inking are managed by the Make-Ready Wizard.
Utilising RMGT's Press Information Cloud (PIC) – a server-based production and analysis system – press information is displayed on a large wall screen, as well as on a wi-fi enabled portable tablet for monitoring and adjusting the settings of the machine while tending to other tasks.
A two-year full parts and labour guarantee is included in the circa £2 million investment.
Commenting on behalf of supplier MPL, Mark Stribley, joint managing-director, said: "We were delighted to be able to work closely with Pyramid Press on the specification for this order. They have been able to experience the quality of RMGT machines through their time with the Mitsubishi press. We firmly believe that this new machine will offer them an even more user-friendly, efficient solution for producing the highest quality of printed output."
"This is the most sophisticated, automated system that we have ever specified, and I firmly believe that this press will show the way forward for printers across the UK."
---
About Pyramid Press
Pyramid Press has been leading the way with quality commercial B1and B2 printing for over 25 years, and is proud of its ISO 9001 certification. The business specialises in time critical monthly publications, luxury direct mail, corporate and product brochures, leaflets, as well as the wide range of products that make up general commercial print, for a diverse range of clients. The Nottingham-based company has merged with Progressive Printers and Advanced Imaging to further strengthen its claim to be the all-encompassing quality print and design partner.
---
About MPL
In 2010 MPL took on the management of both sales and service for Mitsubishi Litho Presses in the UK and Ireland. This relationship has since grown to encompass responsibility for technical service across the whole of Europe for Mitsubishi presses, and the UK for the now re-named RMGT business. MPL also manage spare parts storage and distribution for all RMGT Mitsubishi branded machines across Europe.
This representation joins established products such as GUK folding and inserting equipment, primarily focused towards the pharmaceutical packaging sector.
MPL offers manufacturers considerable marketing and business expertise across both the printing and packaging sectors and provides high-quality national coverage for sales, support and technical service.