News
January 2021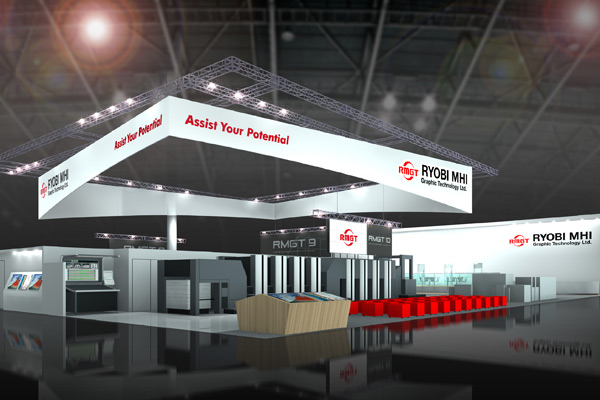 RMGT Ready and Raring to Go: China Print 2021
As China continues to resume normal life and print businesses plan for further growth, China Print 2021 has announced that it is planning a major exhibition for June of this year. This is the first of the world's leading print focused shows to announce its intention to resume business.
Japanese litho press supplier RMGT has swiftly detailed its participation with a substantial three machine line-up, and Chinese distributor Beijing Jia He Ding Xin Technology & Business Co. Ltd (Dinga) is expecting to build on its already announced successful start to the year. The show, and three highly specified large presses, will give the distributor, and RMGT, the ideal opportunity to capitalise on their growing success.
Presses on show will include the RMGT 1050TP-8+LED-UV – a tandem perfector with LED-UV curing. The tandem perfector has proved popular with Dinga customers, utilising same-grip-edge technology to provide for superior back-up and paper savings. The leading mid-format RMGT 920 Series of presses will be represented with an 8-colour in-line perfector, which will also include RMGT's LED-UV curing technology for dry-to-the-touch sheets at the delivery end of the press. The smaller sheet size press will be represented by a 5-colour version of the RMGT 790.
Previous editions of China Print have made it the largest printing exhibition in Asia, with a massive 200,000-plus visitors and 1,300 exhibitors from 146 countries at the 2017 version of the show. This year's event is expecting to cover a total area of more than 180,000 square meters. The event, the tenth edition of the show, will run from June 23rd through to June 27th at the New China International Exhibition in Beijing.
Further details of the show can be found at http://en.chinaprint.com.cn/
---
About MPL
In 2010 MPL took on the management of both sales and service for Mitsubishi Litho Presses in the UK and Ireland. This relationship has since grown to encompass responsibility for technical service across the whole of Europe for the now re-named RMGT business. MPL also manage spare parts storage and distribution for the former Mitsubishi branded machines across Europe.
This representation joins established products such as GUK folding and inserting equipment, primarily focused towards the pharmaceutical packaging sector.
MPL offers manufacturers considerable marketing and business expertise across both the printing and packaging sectors and provides high-quality national coverage for sales, support and technical service.